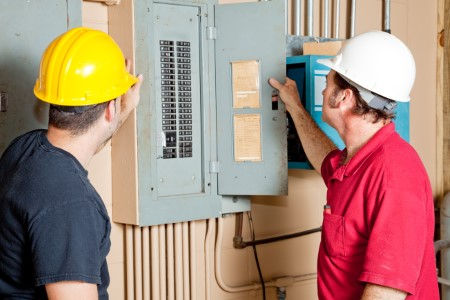 Facility Service Experts electricians are fully educated and experienced in Southern Florida electrical building code compliance for both residential and commercial applications. Our expert Boca Raton electricians are fast and thorough to ensure your business is brought up to code efficiently and effectively, and that means you save time and money. We'll have all the advanced tools, equipment, and parts to get the job done on time, and our experience ensures we get the job done correctly.
Guaranteed Workmanship For Electrical Code Violation Corrections
Along with free estimates and first-rate customer service, when you choose our electricians at Facility Service Experts, you'll also enjoy our guaranteed workmanship for your electrical code violation corrections. From Palm Beach Gardens to Fort Lauderdale, we're the Boca Raton code violation corrections team you want to handle this upgrade. We know exactly what to look for and how to make it right when it comes to your electrical system. Our electrical contractor pros will ensure your electrical is not only brought up to code but perfectly supplies all the power you need.
About Commercial Electrical Code Corrections
Commercial businesses in the Palm Beach Gardens to Fort Lauderdale area can be heftily fined for electrical building code violations. But that's not the only reason to have your code violations fixed. Your commercial electrical system is in a dangerous state when not up to the minimum safety code requirements. That means the commercial building you own is placing someone in danger, or your investment is in danger of fire or electric shock.
Facility Service Experts knows and follows all state and local building codes when working on your commercial building. We will work with you to design a plan for your electrical code corrections and then handle all the work with fully experienced electricians. Call today for affordable, upfront rates.
Electrical Safety Code Inspections
If you're concerned about your home or business electrical system not being up to the current safety code standards, give our electricians a call today. Don't wait in an environment that may be hazardous and dangerous. Our Boca Raton electrical services team can help you create an electrically safe environment to stave off the risk of fire or shock.
An electrical safety code inspection should be done on homes older than 10 years old, every year if there's a pool or heavy equipment, every five years for commercial or multi-family rentals, or any time one believes it may need upgrading due to surges, continual breaker trips, sparks, smoke, burned outlets, appliances that loose power, loose wiring, exposed wiring, or flickering lights.
We Provide All of the Electrical Services Your Boca Raton Home Needs
You don't need to wait for a code violation to surprise you before giving us a call. Instead, you can keep many potential issues at bay with routine electrical safety inspections. You can enjoy that service or any other electrical services by looking to our Boca Raton team.
Home Articles & Tips
Take a moment to check out our informative articles that are geared toward keeping you informed about all things related to plumbing, electrical, and HVAC. Check back regularly, as we're always adding more tips and articles.

Contact Us Today
If you are looking for dependable code violation corrections in the Boca Raton area, then please call 561-409-5555 or complete our online request form.