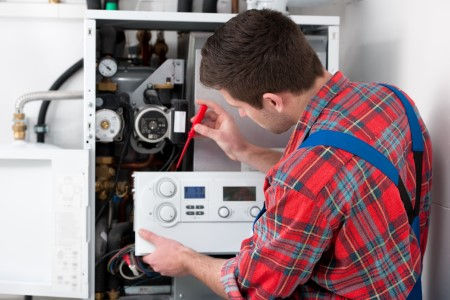 No matter what type of furnace or heat pump system you have in your home or commercial business, our expert heating contractors at Facility Service Experts are here for your heating repairs any time you need us in Boca Raton. Just give our Boca Raton furnace repairs experts a call.
24/7 emergency furnace repairs are offered 365 days a year with workmanship that's guaranteed. We also have other heating services to keep your furnace in great shape, such as seasonal tune-ups and regular maintenance. Whether it's furnace repairs or any of our other professional services, you'll have reliable, guaranteed workmanship from experienced Boca Raton heating services professionals.
Whomever you choose for your furnace repairs or any other service, be sure the heating contractors are properly licensed, insured, trained, and experienced to work on your equipment. Our best heating contractors will always be here for your furnace repairs and all other HVAC services with fully licensed, insured and experienced Boca Raton air conditioning and heating contractors.
Gas or Oil Furnace Repairs
If you have a gas or oil-fueled furnace, make sure the heating contractor you choose has the education and certification needed to work on these systems. Your chosen heating contractor should also be fully equipped by their company with the proper tools needed to test and repair these furnace systems that involve potentially dangerous gas lines. Facility Service Experts has everything we need to repair your gas or oil furnace with reliable expertise. We'll make sure you are warm and safe in your home or business - guaranteed - with our heating repairs completed by Boca Raton HVAC professionals.
Heat Pump Repairs
Many homes in the Palm Beach Gardens to Fort Lauderdale areas have heat pumps for their cooling and heating comfort needs. The heat pump serves both air conditioning and cooling in your home or business. When something goes wrong with your heat pump, give our heating contractors a call any time, day or night, weekend, or holiday. We're available around the clock for your heat pump or any other kind of heating repair. We'll provide you with an upfront free estimate, competitive rates, workmanship that's guaranteed, and exceptional oil and gas furnace repairs in Boca Raton and beyond you can count on.
Furnace Repair & Maintenance Plans
Whether you are a homeowner or commercial business owner in the Palm Beach Gardens or surrounding areas on to Fort Lauderdale, it's important to have regular maintenance done for your furnace to help avoid the need for repairs. Regular maintenance, especially on more complex commercial systems can really help you save. Not only do you have a more reliable furnace, but you also have many other benefits when you're on a maintenance plan. Call today, and we'll make sure you have the best opportunity for energy savings, priority service, extended equipment life, repair discounts, and more.
Home Articles & Tips
Take a moment to check out our informative articles that are geared toward keeping you informed about all things related to plumbing, electrical, and HVAC. Check back regularly, as we're always adding more tips and articles.

Contact Us Today
If you are looking for first-class heating repair in the Boca Raton area, then please call 561-409-5555 or complete our online request form.