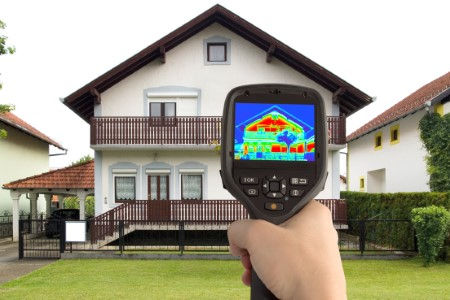 Facility Service Experts is your go-to West Palm Beach thermal imaging experts for testing your home or commercial electrical system located in Palm Beach Gardens to Fort Lauderdale.
One of the important factors in preventing fires or electrical problems is for your chosen West Palm Beach electrician to use thermal imaging cameras that can pinpoint issues that need to be fixed with your electrical system. The camera registers the heat coming off your wiring and other components.
Our dependable electrical contractors will be able to use the thermal imaging camera to ensure you know all about what repairs may need to be done. But the experience of the electrician is vital because it takes much more than looking through a camera. The electrician should be well educated, trained, and experienced with knowledge of local and state building safety codes as well and properly using the thermal imaging camera.
Thermal Imaging For Electrical Panels
Fast and efficient, thermal imaging in West Palm Beach that is very useful on electrical panels when done by a qualified electrician. This details any issues you may be having with your electrical panel, including load performance issues and breaker problems. It is a highly effective electrical troubleshooting tool. Since infrared cameras use no contact with the electrical system, they can be used any time with no need to turn off the power or shut down the commercial business/facility.
Thermal Imaging For Energy Savings Or Remodeling Projects
The thermal imaging process can be used to help you save energy in your home or business by pinpointing missing insulation areas, leaky windows, and doors, cracks, nail holes, unsealed ductwork, and more. Finding all the places in your building or home that waste your hard-earned dollar could be very significant for you. Even in new homes, builders are found to have cut corners or make mistakes. Our West Palm Beach thermal imaging for energy savings tells it all.
Thermal Imaging To Detect Transformer Problems
A thermal imaging camera is perfect for looking at high and low voltage external bushing connections, cooling fans & pumps, cooling tubes, and more on oil-filled transformers and can detect some problems on internal transformers if enough heat is generated on the outside.
During your infrared thermal imaging session, images are recorded for later use. You'll also have a detailed report of all the problem areas found, which include load readings, written recommendations, and the thermal images. Today, you can get clear, concise images from qualified, experienced West Palm Beach electrical services providers.
This method of inspecting your electrical system could indeed save you from unexpected catastrophic failure and decreases the risk of fire and loss of electricity. In fact, since this service is so beneficial in these ways, most insurance carriers require twice a year thermal scan now.
Let Our West Palm Beach Team Handle All of Your Electrical Needs
In addition to specialty services such as thermal imaging, we offer more routine electrical work—everything from electrical repairs to general maintenance. No matter what service you're in need of, we promise to provide the highest standard of service around so that your home or business can function its very best.
Home Articles & Tips
Take a moment to check out our informative articles that are geared toward keeping you informed about all things related to plumbing, electrical, and HVAC. Check back regularly, as we're always adding more tips and articles.

Contact Us Today
If you are looking for professional thermal imaging in the West Palm Beach area, then please call 561-409-5555 or complete our online request form.