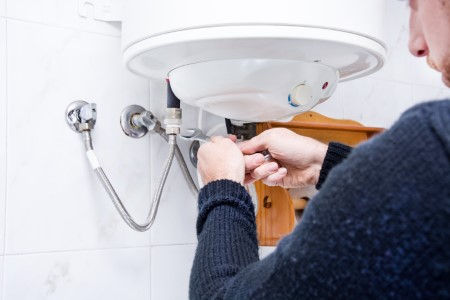 Maintaining a dependable water heater is essential for ensuring your West Palm Beach home is both comfortable and productive. Unfortunately, since you're bound to put your water heater to work many times every day, it's bound to suffer more than a bit of wear and tear through the years. Over time, this wear and tear can render your water heater unable to work its best. It may not even work at all in cases of more advanced wear.
While you can't stop that wear from developing, you can get dependable hot water in your home once more by looking to Facility Service Experts for our water heater services. Whether you're in need of a repair, replacement, or general tune-up, our plumbers will be there to provide the work you need to get your water heater working right once more. Call us today to schedule an appointment for any water heater service you're in need of.
Know When to Have Your Old Water Heater Replaced
It's important that you have your old water heater replaced in time, as a particularly old unit runs a high risk of springing a substantial leak with little to no warning. The best way to stay on top of your water heater's replacement needs is to stay vigilant to the signs that indicate your old unit is ready to go. Some of the signs you're likely to detect in this case include the following:
Irregular water temperature
Discolored water
Very little hot water
Strange noises coming from your water heater
Leaking water around your water heater
Let Us Handle All of Your Plumbing Needs in West Palm Beach
In addition to water heaters, our West Palm Beach team handled drain cleaning, plumbing fixtures, and any other plumbing issue you may have on your hands. We provide our service for a competitive price, which we're happy to quote online or over the phone. We also suggest you take a quick read through our customer reviews page to get an idea of the quality of work we bring to every job we undertake.
Home Articles & Tips
Take a moment to check out our informative articles that are geared toward keeping you informed about all things related to plumbing, electrical, and HVAC. Check back regularly, as we're always adding more tips and articles.

Contact Us Today
If you are looking for prime water heaters in the West Palm Beach area, then please call 561-409-5555 or complete our online request form.