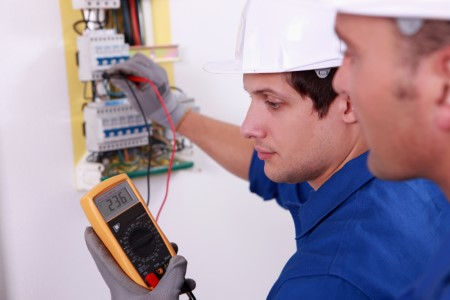 Whether you are buying, selling, or constructing new property in the Palm Beach Gardens to Fort Lauderdale areas, it's important to have an electrical inspection performed by a licensed, experienced Palm Beach Gardens electrical inspection contractor.
Facility Service Experts will always provide you with expert, effective testing, and troubleshooting during your Electrical Safety Inspection. We'll test and check your electrical system thoroughly with our state-of-the-art tools and equipment and find the root cause of any problems.
There is a very long list of items checked during your professional electrical inspection in Palm Beach Gardens or any other area of Florida. Everything associated with electricity in your home or business will be examined and tested by our experts including emergency standby systems, circuits, cables and raceways, swimming pools and saunas, sings and outline lighting, vehicle charging equipment, dumbwaiters, elevators, escalators, lifts, transformers, capacitors, conduit boxes, service & equipment grounding and bonding, Air Conditioning and Refrigerating Equipment -and the list goes on.
Facility Service Experts is experienced in all commercial and residential electrical inspections in Palm Beach Gardens all the way to Fort Lauderdale. We know what to look for, what to test, and how to do a thorough job you can count on to be accurate and honest every time.
When To Have Electrical Safety Inspection On Your Existing Home or Commercial Building
How often you should have an electrical safety inspection done differs from property to property. If you are selling or buying new or having new renters come in, it's important to have it done before this time. With renters you don't know, there's no telling what kind of repairs have been done previously. You'll want to know if your electrical circuits or equipment has been overloaded and if there are any risks of shock or fire.
If you own your home and you have had an electrical inspection done before, another one will be due every ten years. Every year, our use of power in our homes and businesses has increased with all the new devices and appliances we keep adding to the mix. Have your electrical system inspected by a professional Palm Beach Gardens electrician to ensure your panel box is up to code, that there are no risks for fire, and your electrical supply is sufficient to meet your needs.
If you rent out a home or commercial business, an electrical inspection is warranted every five years. This ensures any new tenants aren't faced with a potentially dangerous environment from repairs you may not know about that weren't done right, and it protects your investment in the best way possible.
If you own a home or commercial property with a swimming pool or any heavy commercial equipment, have an electrical safety inspection done once every year. Commercial equipment and swimming pools or other heavy equipment puts a heavy load on your electrical system, not to mention that fire and water don't mix. Remember, our electrical contractor pros can assist you with all your safety inspection needs, from Palm Beach Gardens to Fort Lauderdale.
We Provide All the Services Needed to Keep Your Home's Electrical Setup Safe
A safe electrical setup is absolutely essential for any home, and that's why we offer all of the services needed to ensure your setup always works its best. Whether you're in need of an electrical safety inspection, a code violation correction, or any other electrical service handled, you can count on our Palm Beach Gardens team to get the work done right.
Home Articles & Tips
Take a moment to check out our informative articles that are geared toward keeping you informed about all things related to plumbing, electrical, and HVAC. Check back regularly, as we're always adding more tips and articles.

Contact Us Today
If you are looking for electrical safety inspections in the Palm Beach Gardens area, then please call 561-409-5555 or complete our online request form.