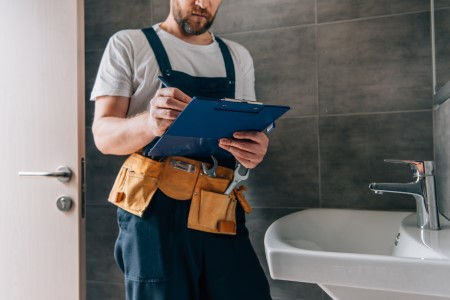 Being blindsided by plumbing issues is oftentimes one of the most frustrating events any homeowner can experience, as such issues can require costly repairs. Fortunately, you can avoid this unexpected problem by investing in routine plumbing inspections from our Palm Beach Gardens professionals. We'll catch and repair developing issues that we detect in any part of your plumbing system:
Drain lines
Water lines
Water heater
Plumbing fixtures
And more
Facility Service Experts is committed to ensuring that your Palm Beach Gardens home remains safe from unexpected plumbing issues that could lead to serious damage. In that endeavor, we promise to provide only the most thorough plumbing inspections you'll find in the area. Give our expert plumbers a call today, and we'll be more than happy to provide a free price quote for your next inspection.
You'll Enjoy the Benefits of Routine Plumbing Inspections
A plumbing inspection is one of the best investments any homeowner can make, and that's not just because of its low cost. Indeed, you'll find plenty to love in this service thanks to the variety of benefits that it offers. Here's a short list of just a few of the more compelling benefits you'll enjoy with routine inspections:
Catching problems early helps us to prevent larger, costlier issues from developing
Routine inspections will significantly reduce your need for plumbing repairs
Your plumbing installations will enjoy the longest possible service life with routine inspections
We Also Handle Your Plumbing Repair Needs
While routine plumbing inspections can stave off many plumbing issues, they won't' stave off ALL issues forever. Fortunately, when you get blindsided by such issues, you can still rely on us to get things back in order thanks to our plumbing repairs. We provide quality work in a timely manner to rectify any issue before it develops into something larger and costlier. So, give us a call today at the first sign of plumbing problems.
Home Articles & Tips
Take a moment to check out our informative articles that are geared toward keeping you informed about all things related to plumbing, electrical, and HVAC. Check back regularly, as we're always adding more tips and articles.

Contact Us Today
If you are looking for plumbing inspections in the Palm Beach Gardens area, then please call 561-409-5555 or complete our online request form.