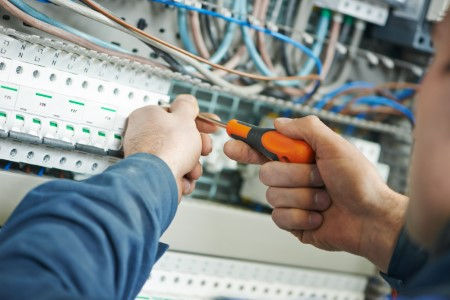 If you need a reliable, affordable electrician in the Palm Beach Gardens to Fort Lauderdale areas to update your fuse box or electrical service panel, call on our Palm Beach Gardens panel upgrades experts at Facility Service Experts.
Keeping up with safety code standards and new technologies is important for any competent electrician in Palm Beach Gardens. At Facility Service Experts, we make sure our responsible electricians are experienced, well trained, and experts in their field. We provide them with the state-of-the-art tools and equipment they need to do quick, efficient work, and all the training and education they need to keep up with this changing world of electrical systems.
Our top electrical contractors can handle your electrical panel upgrades, wiring upgrades, Tesla Charging Station installation & repairs, surge protectors, generators, thermal imaging, commercial electrical projects, code violation corrections, music system electrical, home theater design & installation, and electrical safety inspections.
What Are Electrical Panels And Why Upgrade?
The electrical panel is a distribution board where the electricity supply is distributed to subsidiary circuits that carry power to different areas of your home or commercial building. It provides a protective fuse (circuit breaker) for each circuit within the enclosure.
Safety Building Code Standards change for the better. These codes are designed to ensure that you are safe in your home and are at minimal risk of fires or electrocution. If your electrical panel hasn't seen any attention in about 10 years if you own your home or business, it's important to have this panel examined by an experienced local Palm Beach Gardens electrician for an upgrade.
If you are purchasing new, you should always have an electrician do the electrical inspection, which includes the panel. If you own property that you rent out, every five years is warranted to ensure your tenants are safe and haven't done anything crazy to your electrical panel or other components.
Why Not Upgrade To A Smart Electrical Panel?
Every year, it seems things are getting smarter and more innovative! Today you can upgrade your home or commercial electrical panel to a "smart" panel that you can monitor and operate remotely with an interface for laptop, smartphone, or tablet for many functions!
There are options in manufacturers of Smart Panels out there, but the best ones offer you an all-inclusive relay with a Web-enabled controller and monitor built right into the system. This is a self-contained, motorized circuit breaker panel to meet all your electrical and ease of use needs.
If you're interested in a smart panel electrical upgrade in Palm Beach Gardens or a regular electrical panel upgrade for your home or commercial business in the Palm Beach Gardens to Fort Lauderdale areas, all you need to do is pick up the phone and call us to get a free, affordable estimate today! Our Palm Beach Gardens electrical services team will be happy to assist you.
We Provide All the Services Needed to Keep Your Home Safe
Surge protection is another essential component for keeping your Palm Beach Gardens home's electrical setup as safe as can be. Whether you're in need of a panel upgrade, surge protection, or any other electrical service, you can count on us to provide quality work for a great price.
Home Articles & Tips
Take a moment to check out our informative articles that are geared toward keeping you informed about all things related to plumbing, electrical, and HVAC. Check back regularly, as we're always adding more tips and articles.
Reasons To Get A Panel Upgrade

The condition of your electrical setup informs the overall condition of your home in terms of both safety and performance. To ensure your West Palm Beach home's electrical setup always works its best […]

Signs That You Need a Panel Upgrade

The most important system in your Fort Lauderdale home is the electrical one and the panel is essentially the brain of the whole operation. So how do you know if that brain needs a transplant, in the […]

Contact Us Today
If you are looking for top-notch panel upgrades in the Palm Beach Gardens area, then please call 561-409-5555 or complete our online request form.