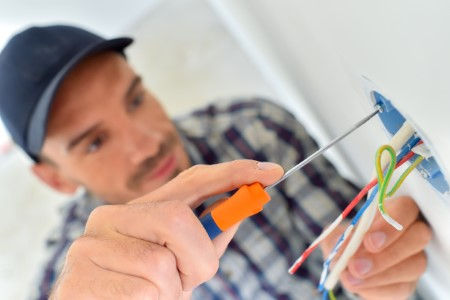 Facility Service Experts wants to be sure everyone is safe in their homes and businesses in the Boca Raton area by being the area's licensed, experienced electrician for repairs and maintenance. There are some things in life that you should never attempt to do yourself or cut corners with someone who isn't licensed and experienced when you need electrical repairs in Boca Raton or anywhere in Florida. This is a risk that just isn't worth it.
Please Always Hire a Licensed Electrician For Maintenance & Electrical Repairs
Electrician's work is one of those things that could be dangerous to you or someone else further down the line if not done properly and up to the current safety code standards or above. These standards are set in place to protect you as the homeowner or commercial property owner and everyone you are eventually responsible for who enters your building or home. Faulty electrical wiring (meaning those installed or repaired incorrectly) is the number one cause of fires in the U.S., according to the National Fire Protection Agency.
For all your electrical maintenance and electrical repair needs, our expert electrical contractors in Boca Raton offer you affordable, guaranteed work, so give us a call for a free estimate today -you have nothing to lose!
Electrical Repair with Expert Troubleshooting
When you need electrical repairs in Boca Raton, it's important that your electrician of choice can troubleshoot the cause of the problems, not just make repairs without fixing the reasons behind them. Facility Service Experts electricians will find the cause of the problems with expert troubleshooting during repairs that you can count on.
The Importance of Electrical Panel Upgrades
Older homes need to have the electrical panel checked for a possible upgrade. Homes built before the turn of the century and prior may need additional electrical power to support today's needs. If you have an older home or any previous repairs done some time ago, it's vital to have an inspection done on your wiring, components, and electrical panel. Call Facility Service Experts today for a free estimate for this affordable and important service. You'll always have honest advice from our Boca Raton electrical services team you can rely on.
Call Our Electricians Right Away for Any of These Warning Signs
Flickering Lights
Outlets You Can't Plug Into
Continual Breaker Tripping
Sparks, Arcs, or Burn Smells
Tingling feeling or Electric shock
Dark colored or Warm Outlets
Odd Sounds From Appliances
Smoking Outlets or Appliances
Bulbs Burning Out Right After Replacement
Power Draining When Appliances used Together
Visibly Loose Outlets or Connections
Popping Noises
Power Surges
Exposed Wiring
Let Us Handle All of Your Electrical Needs
From electrical repairs and maintenance to routine electrical safety inspections, our Boca Raton team does it all to ensure your home functions efficiently and safely. Please give us a call today to get a free consultation for your next electrical project. We look forward to doing business with you.
Home Articles & Tips
Take a moment to check out our informative articles that are geared toward keeping you informed about all things related to plumbing, electrical, and HVAC. Check back regularly, as we're always adding more tips and articles.

Contact Us Today
If you are looking for a dependable electrical repair & maintenance in the Boca Raton area, then please call 561-409-5555 or complete our online request form.