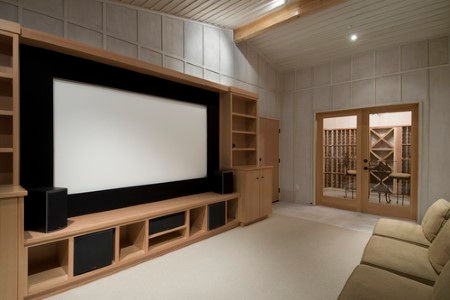 There's nothing like having access to Netflix, HBO, or your favorite sports channels on a film screen while relaxing in the atmosphere of your home theater in Palm Beach Gardens - or anywhere else in Florida, for that matter. Facility Service Experts' team of professional, affordable Palm Beach Gardens home theaters installation experts can help you any time with design, installation, repairs, upgrades, and replacements of home theaters.
Rest assured that you're not alone to have to mess with this complicated maze of equipment, our expert Palm Beach Gardens electricians are ready to help you get the home theater you've been dreaming of.
Many homeowners want a home theater system but just don't know where to begin with all the equipment available today. HD TVs, integrated computer systems, audio, video, games, internet, and more are waiting to serve every entertainment need. Some homeowners get as far as finding the right equipment and try to install it all themselves but wind up very confused and frustrated - for a good reason.
Or they pay the high price of installation from the store they purchased the equipment from. Call our pro electrical contractors so we can find you affordable equipment that perfectly suits your desires and budget for your personal home theater. We offer affordable, upfront quotes you won't want to pass up if you're in the market for home theaters in Palm Beach Gardens, and so much more.
Professional Home Theater Design
Figuring out what you want your home theater room to look like is only one goal. Decisions also need to be made on all the equipment. Facility Service Experts can help you create the home theater you've been dreaming of that's designed to your unique tastes and needs.
Home Theater Interior Design
Home Theater Design Plans
Ideas for Basement Home Entertainment Systems
Seating For Home Theaters
Pictures of Home Theater Designs
Home Theater Lighting Design
Quality Audio, Speaker Systems
Integrated Gaming Systems
Integrated Computer Systems
Home Theaters With Internet
Expert Home Theater Installation
Our competent and well-trained Palm Beach Gardens electricians have you covered for expert installation of home theaters no matter how complicated or simple of a system you want. We'll ensure your power load is sufficient for all your equipment needs to work properly. We can also help you with surge protection to keep all these assets protected at all times automatically, as well as many other types of electrical services in Palm Beach Gardens to Fort Lauderdale, and everywhere in between. You'll not have to lift a finger when your equipment is delivered, we'll do it all for you with expertise and have any wiring or other electrical systems handled -just give us a call to see what we can do to meet your home theater needs!
A Background Music System Pairs Well with a Home Theater
If you want the best home theater experience, invest in a quality sound system. For a top-quality background music system, you can count on our Palm Beach Gardens team. Call us today to get a free estimate for a background music system installation.
Home Articles & Tips
Take a moment to check out our informative articles that are geared toward keeping you informed about all things related to plumbing, electrical, and HVAC. Check back regularly, as we're always adding more tips and articles.

Contact Us Today
If you are looking for experienced home theater design & installation in the Palm Beach Gardens area, then please call 561-409-5555 or complete our online request form.