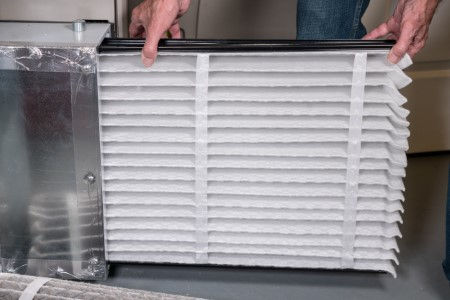 If you are conscientious about the quality of air you live with daily in your Fort Lauderdale home, there are three key steps you can take to ensure you have a great indoor environment. Cleaning up your indoor air not only offers you health benefits but also keeps you from having to dust and clean so often and keeps your heating and cooling equipment cleaner so it can run better. But how do you go about improving indoor air quality in Fort Lauderdale, FL?
Here are a few suggestions from our professional Fort Lauderdale air conditioning contractors at Facility Service Experts to help you enjoy the best air quality inside your home.
Install Whole Home Air Cleaners for better Indoor Air Quality in Fort Lauderdale
Many homeowners think that portable air cleaners in Fort Lauderdale work fine, at least until they realize they have to use one in every room and that they don't work well in large rooms. With a portable air cleaner, you'll be taking it around from room to room, and in the mean time only one room at a time will be cleaned up.
Since air circulates in your home with your central air conditioning system, you'll be circulating the dirty air in the other rooms into the rooms you're trying to clean. This can get frustrating, but most of all is very inefficient. Allergy sufferers or the already ill really need to have quality air throughout the home.
A whole home air cleaner in Fort Lauderdale, on the other hand, with clean all the rooms automatically. You'll be changing air filters less often and will have better air cleaning than you can get with a portable system. They are installed by a heating and air conditioning contractor or an electrical contractor directly onto your existing HVAC equipment. Cleaning the air at the same time is very effective if you have the right sized system installed.
Duct Cleaning Is Important
The second step to the best indoor air quality in Fort Lauderdale is duct cleaning. Once you have an air cleaner installed, or just prior to, be sure you have your ducts cleaned. A lot of harmful substances can be harbored within duct systems, so be sure your HVAC technician gets them thoroughly cleaned.
Use Whole Home Dehumidifiers/Humidifiers
Similar to whole home air cleaners, the whole home dehumidifiers/humidifiers serve your entire home with automatic humidity level control. This system perfectly balances the moisture inside your Fort Lauderdale home. This is also an air quality solutions that is installed directly onto your existing equipment. Be sure it's done by professionals so it's done right. You'll enjoy much maintenance with these than portable humidifiers.
By following these three steps toward good indoor air quality in Fort Lauderdale, FL, your home will have healthier and more enjoyable indoor air at all times!
Home Articles & Tips
Take a moment to check out our informative articles that are geared toward keeping you informed about all things related to plumbing, electrical, and HVAC. Check back regularly, as we're always adding more tips and articles.

Contact Us Today
If you have questions or would like to know more about our Fort Lauderdale indoor air quality services, please call 561-409-5555 or complete our online request form.