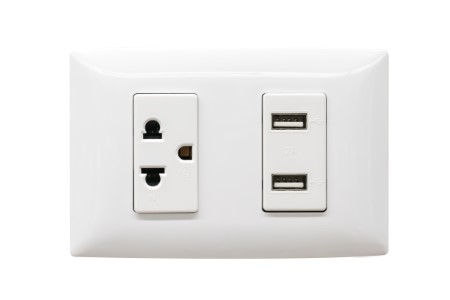 Smart USB Outlet – Convenient and Efficient Charging Station in your Home!
Tired of losing your favorite electrical device's charging adapters? Hire your Southern Florida electrician, Facility Service Experts, to install your new SMART USB outlet! Not only can you plug any USB device in to charge, the USB outlet contains a small SMART CHIP that automatically and instantly recognizes the charging requirements for the device you connect. It then charges your device on the accurate voltage, quickly and efficiently! Talk about the power of convenience! Whether you indulge in Apple, Android, or Microsoft products, this smart USB outlet could be your new favorite item in your home! Stay connected, and stay up to date!
Make your home a SMART home with the electrical experts at Facility Service Experts. Charge all of your SMART devices with your new SMART USB outlet! Never spend another dime replacing those adapters! All you need is your USB outlet cord and you're ready to plug into efficient, convenient and fast charging power!
Home Articles & Tips
Take a moment to check out our informative articles that are geared toward keeping you informed about all things related to plumbing, electrical, and HVAC. Check back regularly, as we're always adding more tips and articles.